The Budapest City Park, also known as Városliget Park, is one of the city's most popular public parks where many go to relax and enjoy the sun.
Originally, the City Park, like so many other estates, was a private royal hunting ground used by the nobility. During the eighteenth and nineteenth centuries, the area was gradually transformed into a public park.
This green space, measuring 0.9 by 0.55 miles (1,400 by 900 m), is one of the world's first public parks.
What to see in the park?
The park includes many things to do, including the Budapest Zoo, a small theme park, the Széchenyi thermal bath and Vajdahunyad Castle.
Vajdahunyad Castle was firstly made from wood for the Millennial Exhibition in 1896. It became one of the favourite Expo attractions and thus, was rebuilt from stone. The building is a copy of several famous Hungarian landmarks that already existed at the time it was designed. The mansion houses the Museum of Hungarian Agriculture and a small, but pretty church.
Most of these sights, except the Castle, are to the left of Heroes' Square.
The City Park also houses a lake, which depending on the time of year you will either be able to ice-skate on or explore by hiring a rowing boat.
Children's all-time favourite
Although people of all ages will enjoy visiting the City Park, if you are in Budapest with children, it should be one of your top places to go.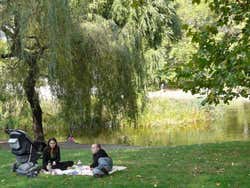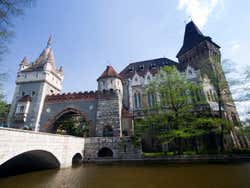 Schedule
The Park usually comes to life on the weekends and especially during the morning.
Transport
Metro: Hősök tere or Széchenyi fürdö, line M1 (yellow).
Trolleybus: Olof Palme sétány, lines 70, 75 and 79.