The Cave Church in Budapest is inspired by Our Lady of Lourdes in France, built into the rocks and caves of the Gellért Hill.
As well as its interior beauty inside a natural cave, it is also worth seeing the remarkable statue of the Black Madonna of Czestochowa and a painting of St Kolbe, a Polish monk that died to protect one of the prisoners in the Auschwitz death camp.
History
The church was established by Pauline monks. One hundred and fifty years after Joseph II banned the religious order from Hungary, fifteen monks that were exiled in Poland returned to Budapest and to the Cave Church. Finally, the monks were arrested during the Communist regime and the church was closed.
The temple and its monastery remained sealed from the early fifties to 1989, and since then, it has remained open.
A very special place
Thanks to its unique setting inside a natural cave, the Church Cave is one-of-a-kind. It has a special charm that makes this structure well-worth visiting. This temple has no special decoration, unlike most other religious structures. Its simple form seems to have been created solely to serve and worship.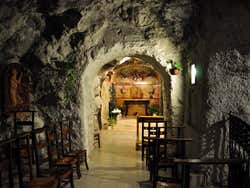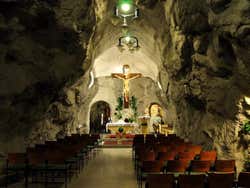 Schedule
Monday – Saturday: 9:30 am – 7:30 pm.
Transport
Tram: Szent Gellért tér, lines 18, 19, 41, 47 and 49.
Bus: Szent Gellért tér, lines 7, 86, 173 and 233E.