The Heroes' Square is one of the main squares in Budapest. It's located on Andrássy Avenue and its statues commemorate the leaders of the seven Hungarian tribes who founded the country.
Hősök tere (Heroes' Square) is one of the main squares in Budapest. It houses one of the city's iconic symbols, the Millennium Memorial, which includes the seven chieftains of the Magyar tribes that founded Hungary and other important heads of state. In between the statues is a large column crowned by Archangel Gabriel.
The square lies at the end of Andrássy Avenue, one of the city's most important boulevards. The plaza and Andrássy Avenue were both recognized as World Heritage Sites in 2002.
The most emblematic building in Heroes' Square is the Museum of Fine Arts, one of the best museums in Budapest.
When to visit Heroes' Square?
Although the Heroes' Square is most beautiful at nighttime, if you don't have enough time to see it at dusk, we recommend visiting it during the morning and then head to the City Park (Városliget), one of Budapest's most popular parks. If you go on a Saturday or Sunday in spring or summer, you'll see a lot of Hungarian families having picnics and resting in the shaded areas of this magnificent green space.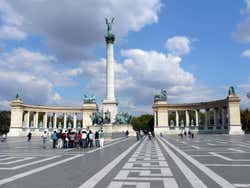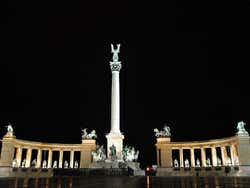 Transport
Metro: Hősök tere, line M1 (yellow).
Bus: Hősök tere, lines 20E, 30, 30A and 105.
Trolleybus: 75 and 79.