The Chain Bridge is the oldest suspension bridge in Budapest and is the Danube's most renowned, connecting both sides of the city, Buda and Pest. The bridge's real name is Széchenyi, in memory of the Count István Széchenyi, who helped build it, but is commonly known as the Chain Bridge.
Before the iron structure was built, the Danube river could only be crossed by boat or by foot when the waterway would freeze over during winter.
The Chain Bridge was commissioned principally because it was extremely difficult for the boats to cross the river during the coldest months and Buda and Pest needed to be more easily connected.  
The Chain Bridge took twenty years to build and was inaugurated on 20 November 1849, even before Budapest became a single city.
Rebuilding the Bridge
During World War II, the retreating Nazi troops blew up all the bridges in Budapest. The Chain Bridge had to be completely rebuilt and was reopened in 1949, exactly one hundred years after it was first inaugurated.
Although during the trip to Budapest you'll most likely see the Chain Bridge on countless occasions, the most beautiful view of the bridge is just after nightfall, when the iron overpass and the Buda Castle are both beautifully lit up.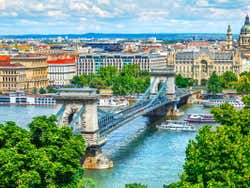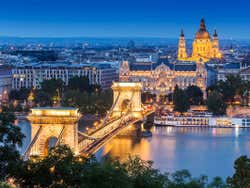 Transport
All tram lines that run along the Banks of the Danube river.
Metro: Vörösmarty tér, line M1 (yellow).