Hungarian concerts and Folklore performances in Budapest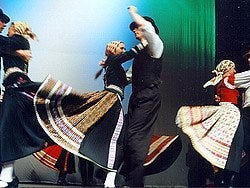 Hungarian folk dancing, very colorful
After a long day exploring Budapest's landmarks and museums, it is time to discover Hungary's rich culture by visiting one of the city's folk music and dance shows.
Hungarian Folklore performances
Hungarian Folklore is based on traditional dances that have been preserved for several centuries in small Hungarian villages. These performances will bring you closer to Hungary's traditional music, dance, costumes and traditions.
Budapest has three extremely renowned folk groups. These music and dance groups have been performing for over half a century both in Hungary and abroad:
It is one of the best-known Folk ensembles. 
one of the most popular and versatile traditional Hungarian music and dancing groups.
The previously mentioned performances have the same price and are all very similar, so we would recommend booking any of the three depending on their availability and performance dates.