Hungary and Budapest's official currency is the Forint, although it is often mistakenly called the florin
Hungary and Budapest's official currency is the Hungarian Forint (Ft, HUF). Although the country has wanted to replace the Forint with the euro since 2003, it still doesn't have a target date to adopt the euro.
Banknotes and coins
The Forint is made up of the following banknotes: 500 Ft, 1,000 Ft, 2,000 Ft, 5,000 Ft, 10,000 Ft and 20,000 Ft. It also includes the following coins: 5 Ft, 10 Ft, 20 Ft, 50 Ft and 100 Ft.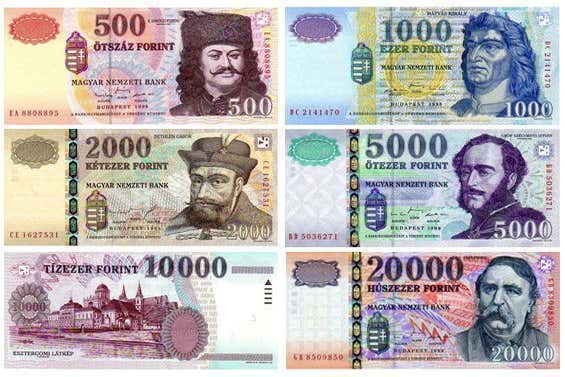 Banks and ATMs
There are numerous banks and ATMs in the city centre, but the further away you are from the shopping areas, the more difficult it is to find a cash machine.
How to pay?
The easiest way to save on commissions is to pay with your credit or debit card. The exchange rate is current when you pay with a card and the maximum fee, depending on the issuer of the card, is usually 1%.
Money exchange in Budapest
The best exchange rates are normally found in the bureau de change in the city centre. The average rates in banks, airports and hotels are usually higher.
Before your holidays, we suggest you ask your bank what commissions they apply for withdrawing Forints. This way, you'll be able to see what the best option is for you. In our case, we prefer to take money out of the cash points instead of exchanging money.  
Exchange rate
500 Ft (US$ 1.40)