Budapest Public Transport
Budapest's public transport system is quite efficient. The city has 4 metro lines that run very frequently and are very punctual, as well as urban buses, trams and trolleybuses.
Although Budapest is small enough to discover by foot, if you prefer to take the city's public transport or if you visit the city in winter when it's extremely cold, you'll get to most of Budapest's top attractions, spas and parks on the metro or on tram no.2.
Main means of transportation
Tariffs and travel cards
Public transport in Budapest is slightly expensive. A one-way ticket is more expensive than in Madrid or Barcelona and is not very flexible.
We have put together useful information on the various types of transport tickets and travel cards in the following article:
More information
For more information, check out Budapest's official public transport website.
To keep in mind
These are some tips to keep in mind before using Budapest's public transport system: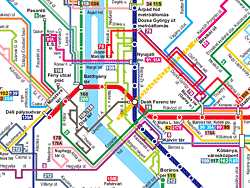 Detailed map of the public transport and lines 
The public transport tickets and travel cards can be used on all means of transportation in Budapest.
Always purchase a transport ticket, especially for the metro. Throughout most of the day, there are ticket collectors controlling the passenger's tickets. Moreover, the inspectors are on the lookout for tourists. Ninety percent of the time you use the metro, you will be asked to present your ticket.
You can purchase the transport tickets and travel cards in the airport, in any metro station, tobacconists, news-stands and as a last option, you can get them from the inspectors.
Be careful, as some people impersonate the inspectors to trick tourists to give them money. All official ticket collectors have an armband and a photo ID.
If you buy a 24-hour, 72-hour or 7-day travel card, make sure the date is written on the pass, otherwise you risk being fined.