Budapest has carried the title of "Spa City" since 1934, and it currently boasts more than a hundred thermal baths.
Budapest has carried the title of "Spa City" since 1934. It has 118 natural and artificial springs, from which flow 70 million litres of hot thermal spring water (between 68°F and 176°F - 20°C and 80°C) every day.
'Taking the waters' became very popular at the beginning of the twentieth century to treat various illnesses, but Budapest's thermal baths have been open since the Roman Empire. During the Turkish occupation, between 1541 and 1686, certain renowned spas were built, many of which still exist to this day.
Before visiting any spa in Budapest, you should check if their swimming pools are mixed, since most thermal baths are open on certain days for men and others for women.
The two most important baths in Budapest, which are mixed, are the following:
The most important baths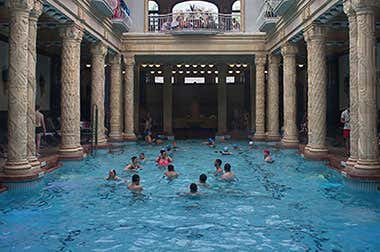 Gellért Thermal Bath is one of the most famous spas in Budapest. Its beautiful public baths are often recommended in magazines and TV programs.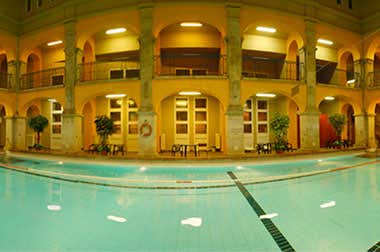 One of the most beautiful Turkish-style spa in the world, Rudas Thermal Bath in Budapest was built mid-sixteenth century during the Ottoman Empire.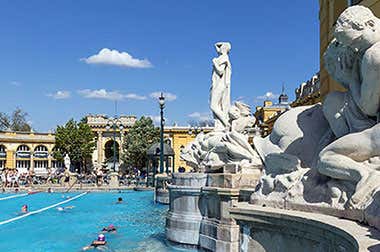 Széchenyi Thermal Bath is the largest natural hot spring spa in Budapest and Europe. The neogothic-styled bath was opened in 1913.
Whichever spa you go to, we recommend packing your bathing suit, flip flops and, if possible, your own towel, since the towels for rent are not very good quality.
Bath Parties (Cinetrip)
On most weekends, certain thermal baths in Budapest (like Rudas) organize nighttime pool parties called Cinetrip or Magic Bath. If you like to party and have enough time, we definitely recommend attending one of these original and unique parties in hundred-year-old buildings.
The Cinetrip parties transform the thermal baths into clubs with disco lights, go-go dancers, young people dancing in the water, screens and special lighting.