Labyrinth of Buda Castle
The Labyrinth of Buda Castle is nearly half a million years old and was created by the effects of hot water springs on the Castle Hill's limestone rocks. It is currently a 1,200-meter-long cave system with springs, basements, caverns and cellars.
History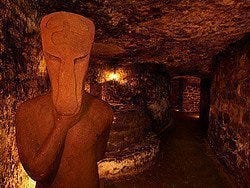 Labyrinth of Buda Castle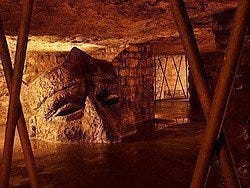 Labyrinth of Buda Castle
Throughout the years, the Labyrinth has firstly been used as a refuge by the prehistoric men half a million years ago, then it was used as a wine cellar, a torture chamber, prison and a safe during the Middle Ages. It was also used as a military hospital, a bunker and a secret facility during the twentieth century.
In 1980, the Labyrinth of Buda Castle was renovated to give it a more cultural usage. That same year, the first wax figure exhibition was installed in the caves.
Exploring the Labyrinth
Since its restoration, the Labyrinth has become one of Budapest's most liked visits. It is extremely interesting and is a great place to go with children. During the visit to the cave, you'll see statues, fountains, pillars, various paintings on the cave's walls, among many other interesting sights.
We recommend going to Buda Castle Labyrinth from 6pm onwards for an even more exciting visit! At 6pm the Labyrinth's lights are switched off and visitors explore the cave with the natural light of oil lamps.
The entrance fee gives you access, not only to the cellar system's "classic tour", but also to the Labyrinth of Love, which you visit with your partner (in the beginning it was just for engaged couples) or to the personal Labyrinth, a maze that is only visited one person at a time. To see these other mazes, you will need to book at the reception desk.   
Very worthwhile
Discovering the Labyrinth of Buda Castle is a unique experience and definitely worthwhile. It has even been named one of the world's 50 most interesting places to visit.
Location
The entrance is on Uri Utca Street, 9.
When to visit
Daily from 9:30 am – 7:30 pm. - It is currently closed.
Fares
Adults: 2,000Ft.
Students, professors and seniors: 1,500Ft.
Family entrance ticket (2 adults and 2 children less than 12): 4,000Ft.
Budapest Card and Hungary Card: 1,500Ft.

Transport
Funicular Budavári Sikló.
Bus: Szentháromság tér, lines 16, 16A and 116.

Map
Hotels nearby