Rudas Thermal Bath is considered one of the most beautiful Turkish-style spas in the world. The bath was built mid-sixteenth century during the Ottoman rule and the structure is similar to the Turkish baths in Istanbul.
Rudas Thermal Bath was constructed in three different periods. It was inaugurated in 1550, enlarged in 1566 by Sokollu Mehmed Pasha, and renovated in 1896, when a new therapeutic pool and sauna were introduced to the building. The last renovation took place during the twenty-first century, reopening at the beginning of 2006.
The main room
The most iconic part of Rudas Thermal Bath is its main hall. This room, created in 1566, has an Ottoman octagonal pool, and four water pools at various temperatures, all covered by a traditional 10-meter Turkish-style dome held up by eight pillars.
Increasingly tolerant
When the Thermal Bath was first built, it was only open to men. Women were first allowed access during the mid-twentieth century. In the past few years, the spa has been open on the weekends for both women and men.
Keep in mind that wearing a swimsuit during the weekend is obligatory. However, from Monday to Friday, it is not compulsory.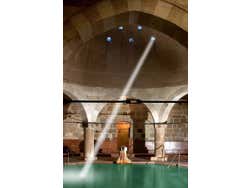 Schedule
Thermal Baths
Men: Monday, Wednesday, Thursday and Friday: 6 am – 8 pm.
Women: Tuedays: 6 am – 8 pm.
Mixed: Saturdays and Sundays from 6 am - 7 pm. Fridays and Saturdays, nighttime bath: 10 pm – 4 am.
Pools
Monday to Wednesday: 6 am – 6 pm
Thursday to Sunday: 6 am – 8 pm.
Price
Between 6,500 Ft (US$ 18.20) and 9,200 Ft (US$ 25.70)
Transport
Tram: Döbrentei tér, lines 18, 19 and 41.
Bus: Szent Gellért tér, lines 7, 86, 173, 907 and 973.