Hungarian National Gallery in Budapest
The Hungarian National Gallery is housed in Buda Castle, a privileged location in the capital of Hungary. The art gallery features Hungarian artwork from the Middle Ages to the twentieth century, including a contemporary art collection.
Until the Hungarian National Gallery was established, the various works of art were on display either in the Hungarian National Museum or in the Museum of Fine Arts.
Collection
Although most of the Museum's collection is made up of paintings (90% of the whole collection), there are also several sculptures and wood altars from the fifteenth century.
The museum holds numerous works by renowned artists such as Mihály Munkácsy, Pal Szinyei Merse and Bertalan Székely. 
A little disappointing
We recommend this Museum to all the art fans that would like to discover Hungary's most prestigious artists and their masterpieces.
If on the other hand, you are not very interested in art and want to visit the Museum because it is housed in the Buda Castle, we warn you that you might be a little disappointed.
Note that the Castle was bombed and partially destroyed during World War II; therefore, the Castle's interior decoration and architecture is very disappointing and looks more like a hospital than a palace or a museum.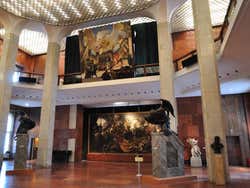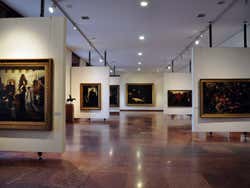 Schedule
Tuesday to Sunday: 10 am – 6 pm.
Monday: closed.
Price
Adults: 3,200 Ft (US$ 8.10)
EU citizens (aged between 6 and 26 and between 62 and 70): 1,600 Ft (US$ 4.10)
Children less than 6 years old and Seniors over 70: free entry.
15 March, 20 August and 23 October: free entry.