Where to Stay in Budapest
Accommodation in Budapest is relatively cheap if we compare it to most capitals in Europe. You can easily find a double room in a centrally located hotel for less than 50€ per night.
Best places to stay in Budapest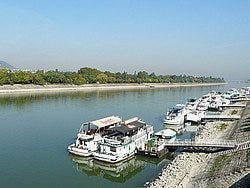 Some of these boats offer accommodation
Our favorite areas to stay in Budapest are all in the inner city, either near the Chain Bridge, the Hungarian Parliament or the Hungarian State Opera House.
If you don't want to stay in the historic center, any hotel near a metro station is a good idea.
Hotels in Budapest
Budapest has a large choice of hotels and as we've already mentioned, the prices are relatively inexpensive. Nevertheless, to get the best prices possible, we recommend booking in advance, since the best bargain hotels in Budapest are the first to be fully booked.
To find the best deals we recommend our search engine where you'll find the best accommodation rates guaranteed and discounts of up to 75%:
Serviced apartments in Budapest
Holiday apartments are becoming very popular and have become an interesting alternative to hotels. You will find the best apartments in Budapest and the rest of the world in the following link:
Best hostels in Budapest
Hostels in Budapest are very cheap. You can find a shared room for just 7€ a night in centrally located hostals, although the most common price is between 10€ and 12€.
The best websites to find hostels in Budapest are: