The Citadella is a fortress located at the highest point of Budapest. It offers the best views over the city and is considered one of the best visits.
Citadella is the Hungarian word for citadel. It features several lookouts, a restaurant, souvenir stands and the fortress, which is an impressive fortification.
The structure is 721 ft (220 m) long and 197 ft (60 m) wide. Its walls are 13 ft (4 m) tall. After the Hungarian revolution and war of independence from 1849 to 1867, the Hungarians wanted to demolish the fortress, but the Citadella was preserved and in 1960 was transformed into a tourist centre.
Visiting the Citadella
Visitors will have to pay 1.20 Ft (US$ 0) to visit this impressive landmark. Although it might seem a little expensive, in our opinion it is well worth the price. The entrance includes a visit to a World War II bunker.
The bunker is made up of three floors with various rooms. Some have wax statues that represent various scenes from World War II that will make you go back in time. There is also a large WWII photo collection that is worth seeing.
A unique visit
In our opinion, the bunker is unmissable, and totally fascinating. Nevertheless, if you do not want to see the shelter, then we do not believe the fortress is worth paying to visit, even though the views are splendid.
Gellért Hill has several paths that lead to the Citadella by which you can walk up. One of the lanes starts at Elizabeth Bridge and another at Szent Gellert Square.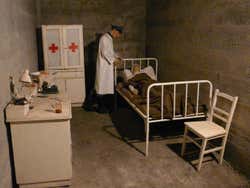 Schedule
The Citadella is currently closed until further notice.
Price
Entrance ticket: 1,200 Ft (US$ 3.50)
Transport
Bus: Búsuló Juhász, line 27.