Shopping in Budapest
Although Budapest is not renowned for its shopping, it has an emerging design scene and has an infinite number of interesting stores, from the largest shopping center in Central Europe to small flea-markets and antique stores.
Traditional products
Hungary has many traditional products that make great presents for family and friends. Some of the most popular are: Herend porcelain, which is handmade porcelain that dates back two hundred years, paprika, which is an essential ingredient in Hungarian cuisine and is sold in little fabric bags or the Hungarian Secret Box, beautifully decorated wooden jewellery boxes that are very hard to open.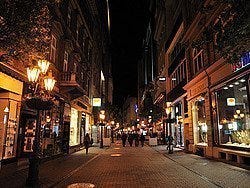 Váci Utca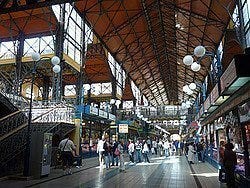 Inside the Central Market Hall in Budapest
Main shopping areas in Budapest
Located in Pest, Váci utca is Budapest's main shopping street. It not only offers numerous fashionable stores, but since it is a pedestrian thoroughfare, it is also very enjoyable to stroll down and stop at one of its many cafés.
Andrássy Avenue, along with Váci street, is one of the city's most emblematic boulevards. It houses the most exclusive high-end boutiques and retailers like Gucci, Armani and Burberry.
One of the best places to buy Budapest's traditional products is the Central Market Hall. Opened in 1897, it is the oldest and largest indoor market in the capital. It houses a huge variety of souvenirs, meats, liqueurs, cheeses, as well as food-stands. It opens every day except Sundays.
Great Market Hall opening hours: Monday to Friday: 7 am – 5 pm and Saturday: 7 am – 3 pm.
If you prefer to explore Budapest's shopping malls, you'll like Arena Plaza, a modern shopping center opened in 2007 that houses several famous retailers and boutiques. The closest subway station is Keleti Pályaudvar.
The largest shopping center in Budapest is called West End. It houses over 400 shops. It also has a cinema and numerous restaurants and fast-food stands. Its metro station is called Nyugati Pályaudvar.
If you love antiques and vintage items, we recommend you visit the Ecseri Flea Market, which is packed with old paintings, music instruments, furniture that needs restoration and surprising souvenirs.