Hungarian State Opera House
The Hungarian State Opera House is one of the most prominent Neo-Renaissance buildings in Budapest and Hungary. It was designed by Miklós Ybl, a well-known Hungarian architect.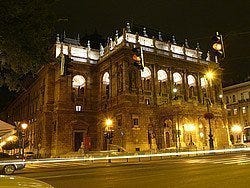 Hungarian State Opera lit up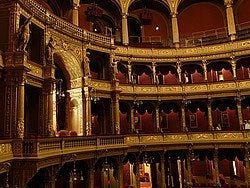 Inside Budapest Opera House
The structure was established between 1875 and 1884 and the Emperor Franz Joseph I of Austria-Hungary funded the construction with one condition, that it should not be larger than the Vienna State Opera House. The Budapest Opera House currently seats 1,261 people.
The building's façade is decorated with striking sculptures of famous musicians and composers.
Visiting the Opera House
There are two possible ways of visiting Budapest's Opera House:
English-speaking Guided Tour of the Opera House: The guided tour takes approximately one hour and visitors will be taken through the most beautiful rooms in the Opera, from the gods to the boxes. The guide includes a lot of interesting information about the building, as well as curious facts, for example, how much the bronze chandelier weighs and how it is cleaned.  
Purchasing an entrance to the opera or ballet: There are performances nearly every day, especially on the weekends.
Although it is cheaper to get a ticket to see a performance from the extreme sides of the Opera House than to book the guided tour, we believe the tour is well worth doing. It is very interesting and you see parts of the Opera that are normally closed.
If you are a fan of the opera or the ballet, you should not miss the opportunity to see one of these shows in the Hungarian State Opera House, even if you have taken the guided tour of the building. The best seats are relatively inexpensive. 
Location
Andrassy Avenue, 22, Budapest, 1061.
When to visit
Opera visiting tours in English: daily at 3pm and 4pm.
Fares
Adults: 2,990Ft.
Students: 1,990Ft.

Transport
Map
Hotels nearby